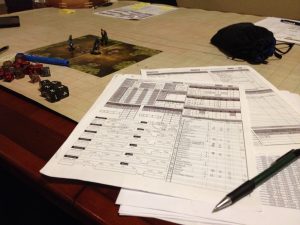 Dungeons & Dragons always scared me. I'm ashamed to admit it, but back in the day I totally bought into the stereotypes of the game. As a geek, I should have known better.
In the last six months, a world of fun, friends, and storytelling has been opened up to me. I'm a table top role-playing game convert! Over the next few weeks I want to share my adventures as a newbie RPG gamer and as a woman trying to find her place in the world of tabletop gaming.
Nasty first taste
I've been a proud geek since my days in high school. It wasn't until my grade 12 year that I could really wear the geek label with pride, and not care what anyone else thought of me. Looking back now, my perception then of Dungeons & Dragons suprises me. I bought into the stereotype: socially awkward, skinny guys around a table in someone's basement. They probably had acne, thick glasses, and hadn't seen the light of day in weeks.
It wasn't until university did I really start thinking about playing Dungeons & Dragons.  Being a writer I was intrigued by the storytelling aspect of the game. I was already playing in online forum and play-by-email RPGs… it couldn't be that much different, could it?
My best friend and I were both dating guys who played. I put feelers out to them to see if they might teach us. At first they were keen to teach us. We rolled up characters (a ranger for me, a druid for her) and we were excited to play.
Unfortunately the group dynamics didn't work out. The guys didn't like how we wanted to play our characters, and eventually their enthusiasm for teaching us waned.
Online communities

In the years since that first game of Dungeons & Dragons, I'd joined a forum based Star Trek RPG called Federation Space. Eight years later I'm still an active member and administrator. I've put a lot of effort and love into the site, and I've grown leaps and bounds as a writer. I also learned a lot about online engagement and community management, which helped me with my university education (communications) and my eventual career (online community manager).
But the biggest impact the site had on me was the friendships I'd made. Here was a diverse and friendly community made up of players from around the world. They understood many of the things I was going through as I grew up as a geek and we had a shared perspective of the changing geek society (suddenly it was cool to be a geek).
I've had the good fortune to actually meet many Federation Space players, and become good friends with several of them. I never thought I could connect with people on such a level, let alone through an online RPG game.
Tabletop RPGs take two

Fast forward to 2013. I finally managed to make it out to VCON, a local and nonprofit scifi, fantasy, gaming, movie convention here in Metro Vancouver. I went mostly for the writing aspect, though part of me was curious about tabletop gaming. I'd long been playing Settlers of Catan, and my friend Kathy had introduced me to more games like it. Wanting to play more of these games, and expand my social circles, I went to the con hoping to discover a gaming group in / near my neighbourhood that I could join.
That's where I met Blair, Ethan, and Deanna. We connected at an inclusive gaming panel, and they kindly invited me to join their gaming group. So I jumped in.
They introduced me to a whole new realm of tabletop RPG games.
The rest, they say, is history.