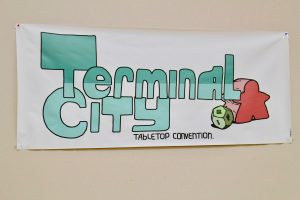 This past Saturday, Blair and I attended Terminal City Tabletop Convention in Burnaby.
In it's second year, Terminal City is a two-day convention dedicated solely to tabletop games. This year's event moved across the street to the Bonsor Recreation Centre in the Metrotown neighbourhood of Burnaby. Like last year's event, this year's TCTC was packed with gaming demos, tournaments, an awesome silent auction, a dedicated indie game section, and a kids' zone.
I love the friendly environment of this convention! A neat feature was the "Players Wanted" and "Teachers Wanted" signs that were available. If you were wanting to play a game and looking for more players, or wanting to learn a game, you could borrow one of these signs so that people knew you were looking to game. It was a great way to break the ice because then folks could simply jump in on a game without the awkwardness of trying to figure out if there was room for you. We met a lot of awesome people this way.
We arrived about an hour into the convention having started, so we weren't able to jump into some game demos. Instead we checked out the con to see what folks were playing, had a peek at the silent auction, and went over to the proto alley.
Because the game demos had already begun, we borrowed a copy of Tokaido from the lending library. Blair really wanted to learn some games that have been featured on Tabletop, so this was a great opportunity to do it.
Our friend Adrian from Giant Monster Games had spotted us with a "Teacher's Wanted" sign on the table. He jumped in to teach us and another couple how to play. Tokaido is a fun, easy going game that's quick to learn. It requires a bit of strategy, as you need to figure out what goals you want to achieve and how much risk you're willing to take (since other people can fill up spots trying to earn pieces towards goals too).
After that we borrowed a copy of Forbidden Desert. This time around we had Shannon, the TCTC organizer, as our game teacher! He taught us and another newbie how to play.
I have to say, I loved this game so much we may have purchased a copy during the con…. This is another one that's easy to learn, but it's also a team game, so you have to work together to find all the pieces to your flying ship before the desert kills you. Originally we thought we'd won this game, but looking at the rules again a few days later it turns out we didn't.
The next game on deck was Epic Spell Wars of the Battle Wizards Duel at Mt Skullzfyre. The concept is that you're a wizard trying to kill off all the other wizards. Odds are, you're going to be killed. A lot. You build your three part spells using cards, and unleash them. Be warned, if you don't have a high enough initiative odds are you will be killed. But if you have a high initiative and attack people, they will attack you back on your turn and you will be killed. I found the concept kind of neat. The instruction booklet is really poorly designed, so it was a struggle for us to read the text and figure out how to play. Fortunately we found someone who knew how to play to teach us!
Next up we took a crack at Wits and Wagers. One person asks a question, and then everyone has to make a guess at what the answer is. Then you reveal all the answers and everyone bids on what they think is the closest to the real answer without going over (all answers are numeric). This wasn't a bad game, but I think there are other party games out there that get more laughs and engagement from the group.
The silent auction closed about then. Because it was up on the stage it was pretty funny to see the people camping out next to bid sheets to make sure that their bid was the winning one.
We snuck out for some dinner after that.
On our way back we headed to the protoalley to learn Town Builder. This is a card game where you try to collect resources and build your town, to make a better town than your competitors, and score points based on certain goals. The goals will vary from game to game too. We both loved that the game was simple to learn, but there was still a lot of in-depth strategy and planning you needed to do. It's a good game for both casual and hard core gamers alike. We can't wait to see this game launch on Kickstarter and are eager to get a copy!
After that we played a quick game of The Hobbit Love Letter, before deciding that we were pooped and were ready to head for home. Unfortunately we weren't able to make it back for the Sunday due to ongoing home renoes.
All in all we both love Terminal City and can't wait for next year!