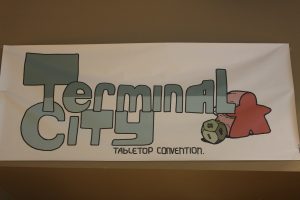 Terminal City Tabletop Convention happened this past weekend in Burnaby. This was the first year for TCTC. It's size made it a more friendly affair. Con volunteers and guests were incredibly friendly, and you could tell from the atmosphere that everyone there was passionate about tabletop. You didn't feel like you were mobbed in the crowd, and other gamers were happy to have you jump into their games.
As we were checking out the second one, someone came over and asked if we'd like to play Shadows Over Camelot. Since neither of us had played, we decided to jump in! We had a full group playing, attempting to fight evil and fill the round table with white swords.
There was a traitor among us, who's goal was to fill the table with black swords or overcome Camelot with siege engines. I was a little nervous since I drew the traitor card, but in the end I managed to win. I've heard this game is a tough one for the 'good' side to win, so I'm eager to play again.
After that we asked if we could join a game of Smash Up. Science fiction villains team up to take down bases and earn victory points – how could that not be fun? I got to be dinosaur wizards, which felt rather epic.
TCTC also featured a Proto-Alley, where local game designers could demo and play-test their new creations. Our friends from Giant Monster Games and Parallax Games were there. Though we didn't have the opportunity to play any of the games in Proto-Alley, we did have the chance to connect with some local developers. Hopefully we'll have some new game reviews for you soon!
Terminal City also featured a large board game library, where convention goers could borrow whatever game they liked for free. We took out Fleet Admiral and gave it a whirl.
Overall I definitely recommend Terminal City Tabletop Convention, and am looking forward to next year!