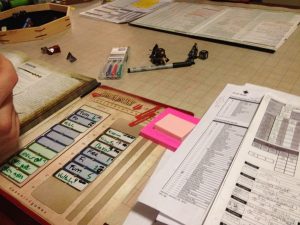 You've heard about Dungeons & Dragons — maybe you have some preconceived notions of the game and the players — but have you ever wondered what exactly it is?
What is Dungeons & Dragons?
Dungeons & Dragons is a game created in 1974 by Tactical Studies Rules, Inc (TSR). Considered the beginning of modern day role playing games, D&D was based off of contemporary war games that used dice to determine success and failure. Dungeons & Dragons is often used as the catchall term for tabletop role playing, particularly by those who have never played. From this point on when I say tabletop RPG, I'm referring to the genre of game that Dungeons & Dragons falls into. When I mention Dungeons & Dragons, I'm talking about the game created by TSR.
So then, what's a tabletop RPG?
At it's simplest, a tabletop roleplaying game (tabletop RPG for short) is a collaborative storytelling game.
The game master (GM) acts as the narrator, setting the scene that the player characters (PCs) get to play in and giving them opportunities for adventure. Together, the GM and PCs weave a story while giving the character the chance to grow, shaping the outcomes of the game.
When the GM and PCs make actions where they don't know the outcome, they roll dice. Based on that roll, formalized rules tell them whether their action was a success or a failure (though many GMs use these rules only as a flexible guide, not something that is set in stone, in order to make the game more fun).
Players need to interact and work together in order to succeed. Those who don't will often find themselves bored and with little to do, or they will find their PC being very easily killed off by the GM. A good GM will try to get everyone involved in the game, and strives to foster interactions between players.
As the game progresses, characters will gain experience points (XP) for things they accomplish. Once they have earned enough XP, characters will then level up. Leveling up means that characters become more proficient at the skill they know, and they get the chance to learn more skills.
Is it only fantasy games?
Most people imagine something from Lord of the Rings when they think of tabletop RPGs (D&D is a pop culture staple, after all). Though Dungeons & Dragons and Pathfinder RPG do use fantasy, there are a multitude of games from different genres to choose from!
Maybe something akin to True Blood appeals to you: try Vampire: The Masquerade. Or maybe you want a riproarin' space battle: there are Star Trek, Star Wars, Firefly, and other space based games. If a modern day caper is more your speed, try the Leverage RPG.
Looking for group
Whatever you enjoy, tabletop RPGs are easy to get in to. The trick is to find someone who knows the game and can help walk you through.
A good place to start are game conventions, like Terminal City Tabletop Con or VCON, both local cons to Metro Vancouver. Game Moderators at cons are more than happy to welcome new players into the fold. I regularly run an "Intro to Dungeons & Dragons 5e" session at these cons, to help get new players into the game.
Websites like the Vancouver Gaming Guild and  Meetup.com are great places to connect with other players. A quick search of Meetup.com shows 10 groups close to where I live.
Many friendly local game stores often run tabletop RPG nights. Even if the group is in the middle of a campaign and not able to accommodate new players, they are usually more than happy to have an audience. And this is a great way to get a feel for the game.
If you start asking polite questions, I'm sure someone can help you find a group in your area to join.
Unfortunately, not all gamers are friendly. As a woman in tabletop gaming, I've definitely experienced my fair share of sexism. It exists. It's incredibly uncomfortable. And sometimes male gamers will deny it happens. If you're a woman looking to get into tabletop, be aware of your personal safety. It's okay to leave a group if you're uncomfortable. Listen to your gut. You don't have to put up with garbage attitude from other players or the GM. There are groups out there that are welcoming.